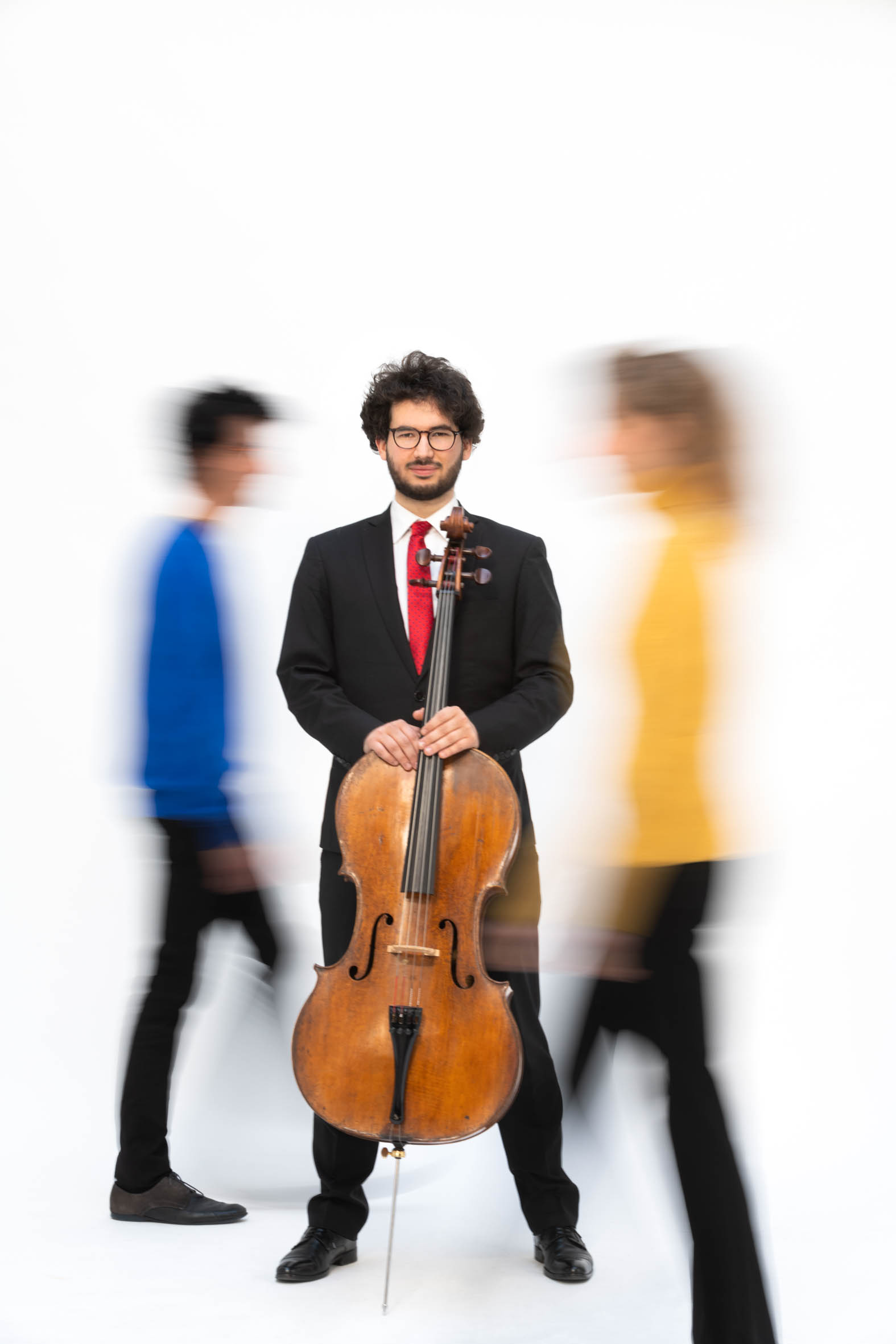 Clément Dami, cellist based in Geneva, performs as a soloist and a chamber musician in Switzerland and Europa. As a soloist, he played under the direction of conductors such as Pierre Bleuse, David Greilsammer and Philippe Béran, in settings like the gardens La Mortella in Ischia (Italy), the Ravello Festival (Italy), the festival Septembre Musical Montreux-Vevey (Switzerland) and the Festival Arosa Kultur (Switzerland).
This chamber music enthusiast formed the Trio Ernest in Geneva, which allowed him to meet some of the greatest masters in the field, especially through his participation to the ProQuartet and the European Chamber Music Academy programs. The Trio has been in residence at the Queen Elisabeth Music Chapel since September 2020 as well as resident at ProQuartet, and it integrated the European Chamber Music Academy in June 2021. It has won several international awards (FNAPEC European contest in Paris, Orpheus Competition in Zürich, Académie Ravel) and performed throughout Europe.
In June 2018, Clément Dami graduated from the Haute École de Musique de Genève, completing his master's degree in François Guye's class. He attended various masterclasses held by Jean-Guihen Queyras, Jeroen Reuling, Marc Coppey, Gary Hoffman, Gustav Rivinius and Frans Helmerson.
Several times a winner of the Swiss Youth Music Competition (SYMC) both as a chamber music player and a soloist, he won in particular a first prize with honors and the EMCY special prize in 2012. In 2013, the Friedl Wald Foundation granted him a scholarship. In 2015, he won the special prize Albert Lullin and, in 2018, the Adolphe Neuman prize, both awarded by the HEM of Geneva. He had the occasion to perform on stage with renowned artists such as Miguel Da Silava, Patrick Genet, Ophélie Gaillard or Stephan MacLeod.
Early music soon played a significant part in his musical studies. He got acquainted with baroque cello during his studies at the CPMDT (Conservatoire populaire de musique, danse et théâtre in Geneva), then perfected his training with Bruno Cocset for the major part of his studies at the HEM of Geneva. He regularly performs with this instrument as a soloist, in chamber music and with orchestra.